An emotional Dennis Hogan says winning the IBO super welterweight title will finally erase all the heartache from his loss to Mexican superstar Jaime Munguia – a fight almost the entire boxing world agrees was a brutal championship robbery.
In a Major Events Podcast interview in which he was almost in tears, Hogan revealed that he is ready to "exorcise some demons" in Saturday's show against British world champion Sam Eggington.
Despite three failed attempts at a world title – and a tough, career-threatening defeat to Tim Tszu last year – the adopted Australian is now looking for the ultimate redemption story at Newcastle's entertainment hub.
Watch Super Saturday No Limit LIVE in the Main Event at Kayo on Saturday 8 October from 19:00 AEST. Order NOW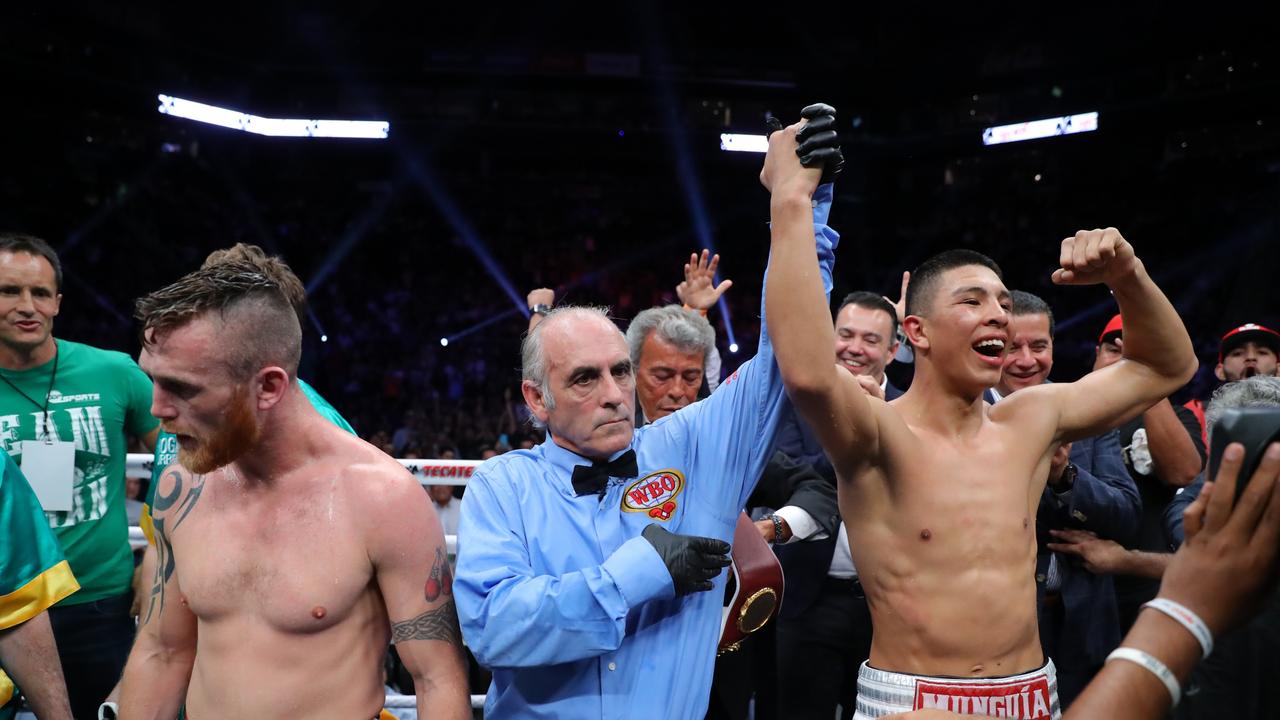 Ironically, the 37-year-old Irishman returns to the same venue where he suffered a devastating loss to Tszyu last year.
Hogan admitted that after Tzu's loss, a friend sat him down and asked exactly how many more fights he wanted to fight – "which was a punch to the heart" – before he talked about a title shot. decided otherwise.
"I said, 'Let's give it another run,'" Hogan recalls. "You lose, you're done and you're not sorry."
After returning to the site of Tzu's loss and back-to-back wins over Tommy Brown and Wade Ryan, he continued, "We can really exorcise some demons.
"What a change from 18 months ago, asking where my career was – what can I do? Can I improve? – to win a world championship right there.
"It's like fate for me. Destiny."
Back in 2019, the current Queensland fighter appeared to have fulfilled a lifelong goal when he went the distance in a thriller with incredible WBO welterweight champion Munguia.
Despite entering the bout as a public underdog and with many pundits expecting him to be beaten, Hogan shocked the world – except for the two judges at ringside who gave him the win.
The third judge called the fight a draw.
"When they announced the result, it was unreal," Hogan recalls. "I still felt like I won.
"In my heart, I just won the world championship title.
"I proved to myself that this is the most important thing.
"But after the fight the adrenaline wore off … that's when it really kicked in.
"It's like, 'You still don't have a belt.'
"It was, 'Okay, we've got to do this again.' And I wasn't really looking forward to it … but I was ready."
MORE
'BACK IN TAJIKISTAN': How Michael Jordan inspired Cambosos' dramatic move as Australia go 'dark' for title rematch
'I know what they're up to': Dreadful rival Nikita furious at Team Tszyu's tricks
Which brings us to Eggington.
"He's been European champion, British champion, Commonwealth champion and now he's world champion … he's done it all," Hogan said.
"But he's lost too.
"And I know I want that belt more than he does."